MODULAR TOILET
---
Modern, Durable and Secure: One Stop Solution for Sanitation in India.
Robust and insulated steel super structure. Aesthetically pleasing with colour options.
One stop solution with waste management, plumbing and electrical fittings.
Bio-digester option available for waste management.
Experienced in 20+ states in the remotest locations.
Quick and easy installation.
Trained professional solution partners in all states.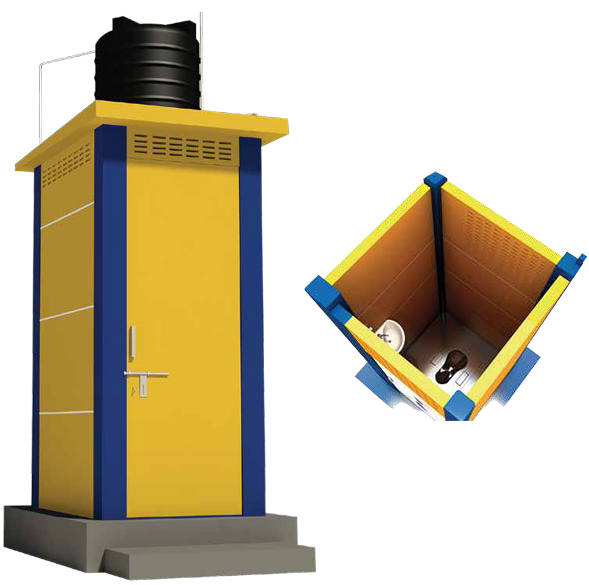 Modular Toilet
Dimension: 4 x 3 feet
Height: 2020 mm
SS inside bottom panel: 125 mm
Sandwich panel (roof & wall): 40 mm
Door size: 665 mm x 1790 mm x 40 mm
Waste Management (Conventional/Bio digester)
Concealed electrical & plumbing: Provision given
Ventilation: Four side louvre panel
Provision for water tank available

Differently Abled Friendly Modular Toilet
Dimension: 4 x 3 feet
Height: 2020 mm
SS inside bottom panel: 125 mm
Sandwich panel (roof & wall): 40 mm
Door size: 962 mm x 1790 mm x 40 mm
Waste Management (Conventional/Bio digester)
Concealed electrical & plumbing: Provision given
Ventilation: Four side louvre panel
Height of the basin adequate for disabled
Provision for water tank available